Measuring your ironing board
You must ensure that your ironing board is the correct size for this product.
To ensure the correct fit the board should be measured at its widest point including the depth and its longest point including the depth.
Length = A + C + C
Width = B + C + C
We've made all of our ironing board covers a slightly more generous size to cope with the multiple options of ironing boards available.
Are you sure that this cover will fit your shape & size of Ironing Board?
Homepage > Clothes Hangers > 1 30cm Metal Chrome Finish Hangers with 2 Adjustable Non-Slip Clips and Swivel Hook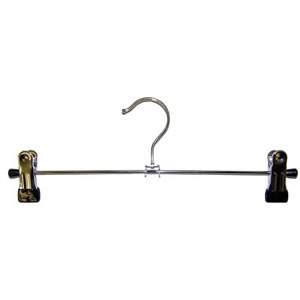 Questions? Call us anytime on 08000 199 309 INTERNATIONAL +44 (0) 207 267 5003
Swivel Hook Clip Hanger with Chrome Finish
For hanging Lingerie
For hanging Trousers
For hanging Skirts
Chrome finish with 2 strong clips
Swivel Hook
Good basic product - I use mine for laundry to help save airer space.
Metal Hanger with two Non-Slip Adjustable Clips and with a Swivel Hook.
Chrome Finish. Size: 30cms
This product can be found in the following locations:
Carole White - Tuesday, 9th October 2012, 8months ago

The product was of reasonable quality and fairly priced. I am using them to hang children's skirts, it it not easy to buy hangers the right size for this purpose elsewhere.

jackie power - Thursday, 26th July 2012, 10months ago

Use at home, good quality,

Sue Maycock - Tuesday, 5th June 2012, 12months ago

So much easier to use than convential trouser hangers and the items do not slip off either

derek young - Tuesday, 29th May 2012, 12months ago

very good product

Ann Goreham - Tuesday, 14th February 2012, over a year ago

Good basic product - I use mine for laundry to help save airer space.

Selina Banks - Tuesday, 31st January 2012, over a year ago

These hangers are great for skirts and really free up valuable hanging space. Well made. The only reason it gets four stars is that in a cramped wardrobe they can sometimes get tangled up in each other and are initially a bit fiddly but you soon get used to them.

chris sycamore - Saturday, 3rd September 2011, over a year ago

Ideal for there purpose. service and speed of delivery first class

William Whitehead - Monday, 7th March 2011, over a year ago

They are exactly what I was looking for, I bought ten of them to hang my masonic aprons on, good value, perfect for the the job, they free up space in my case so I only put into it what I need for the night. I recommend them.

Andrea Wylie - Tuesday, 15th June 2010, over a year ago

Brilint product - Good value for money - Great for Childrens clothes

Hari Sohal - Wednesday, 19th May 2010, over a year ago

Good Strong hangers and very fast delivery. Overall great service we keep coming back to.

Janice Howard - Monday, 26th April 2010, over a year ago

Brilliant! Hang trousers "upside down" (from the leg bottoms), keep them immaculate and save loads of space on the hanging rail. Really strong and secure clips.