Measuring your ironing board
You must ensure that your ironing board is the correct size for this product.
To ensure the correct fit the board should be measured at its widest point including the depth and its longest point including the depth.
Length = A + C + C
Width = B + C + C
We've made all of our ironing board covers a slightly more generous size to cope with the multiple options of ironing boards available.
Are you sure that this cover will fit your shape & size of Ironing Board?
Homepage > 1 Black Non-Slip Trouser Hanger
1 Black Non-Slip Trouser Hanger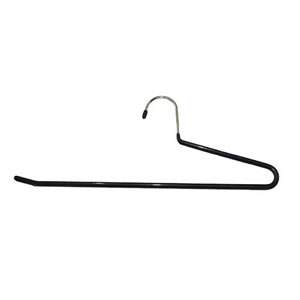 Questions? Call us anytime on 08000 199 309 INTERNATIONAL +44 (0) 207 267 5003
Buy 1 Black Non-Slip Trouser Hanger
Chrome trouser hanger with black non-slip coating
Non-slip coating to prevent trousers from falling off
Space saving way to hang your trousers
The professional way to hang trousers
Width - 36cms (14") Height - 14cms (5 1/2")

1 Black Non-Slip Trouser Hanger Reviews »
Average 4.8/5 from 75 reviews.
A chrome non slip trouser hanger with a non-slip coating (black). This hanger will prevent your trousers falling off the hanger into a crumpled heap in the wardrobe, sound familiar? This is a space saving way of hanging your trousers - far more so than using wooden hangers, and yet your wardrobe will still look smart and neatly organised.
The hanger is 36cms wide (14") Height = 14cms (5 1/2")
1 Black Non-Slip Trouser Hanger can be found in the following locations: