Measuring your ironing board
You must ensure that your ironing board is the correct size for this product.
To ensure the correct fit the board should be measured at its widest point including the depth and its longest point including the depth.
Length = A + C + C
Width = B + C + C
We've made all of our ironing board covers a slightly more generous size to cope with the multiple options of ironing boards available.
Are you sure that this cover will fit your shape & size of Ironing Board?
Homepage > Homecare > 1 Caraselle Extra large zipped net washing bag 74 x 50cms
1 Caraselle Extra large zipped net washing bag 74 x 50cms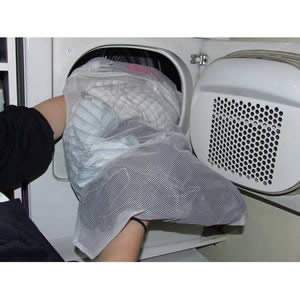 Questions? Call us anytime on 08000 199 309 INTERNATIONAL +44 (0) 207 267 5003
Protects laundry in the washing machine & tumble dryer
Great for shared washes
Designed to protect clothing with sewn on beads & sequins
5 other sizes available
74cms x 50cms (29" x 20")
1 Extra Large Family Size Net Washing Bag. Designed to take bulkier items. Ideal for sweaters & jeans. Our Net Washing Bags are easy to see through and help protect garments from getting lost in the wash and will wash delicates safely. They also keep your items separate from other people's if you are sharing a wash. Size - 74cms x 50cms (29" x 20").
This product can be found in the following locations:
Karen James - Tuesday, 12th March 2013, 3months ago

Good quality. Elastic band covers the end of the zip. Used for storage of washing and for washing large items

Tony Hesketh-Gardener - Wednesday, 30th May 2012, 12months ago

Excellent.

Campbell White - Sunday, 11th March 2012, over a year ago

For home usage only to protect some shirts

Lorraine Groves - Monday, 13th February 2012, over a year ago

Excellent product.

Amanda Hoadley - Thursday, 6th January 2011, over a year ago

They protect the washing I need them too

Anne Hunter - Wednesday, 14th April 2010, over a year ago

I purchased 2 of extra large wash bags and used them to wash "voile curtains" and was extremely happy with result - I shall certainly use them again.