Measuring your ironing board
You must ensure that your ironing board is the correct size for this product.
To ensure the correct fit the board should be measured at its widest point including the depth and its longest point including the depth.
Length = A + C + C
Width = B + C + C
We've made all of our ironing board covers a slightly more generous size to cope with the multiple options of ironing boards available.
Are you sure that this cover will fit your shape & size of Ironing Board?
Homepage > 1 Pack of 2 Orphea Hanging Diffusers For Wardrobes
1 Pack of 2 Orphea Hanging Diffusers For Wardrobes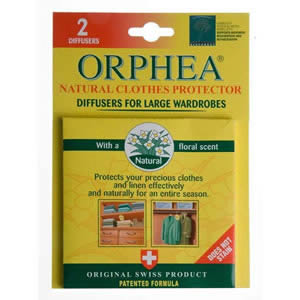 Questions? Call us anytime on 08000 199 309 INTERNATIONAL +44 (0) 207 267 5003
Each pack contains 2 hanging diffusers made of cellulose, in a bouquet shape
A natural moth repellent made from natural ingredients
Designed to be hung in cupboards & wardrobes
Do not leave stains & are effective for up to 12 weeks
Can also be used in all wardrobes on boats, caravans, planes and offices
i would recommend this to everyone
We also stock Orphea Salvalana Perfumed Drawer Sachets ( Reference number: 1155 ) and Orphea Moth Repellent Strips For Drawers and Wardrobes ( Reference number: 26 )
Orphea is a Natural Clothes Protector. It's unique fragrance is blended in Switzerland to a patented formulation. This highly effective blend is based on the extracts of numerous plants and flowers. It's fresh fragrance softly envelops your clothes and linen and the natural active ingredients protect them for up to 12 weeks.
Orphea promotes the protection of our environment by using natural ingredients and recyclable packaging materials wherever possible. It is also committed to the regeneration and reforestation projects supported by Bioforest.
Hang one diffuser in each wardrobe compartment. For very large wardrobes, use two diffusers.
This product can be found in the following locations:
patricia kirk - Thursday, 3rd May 2012, over a year ago

i would recommend this to everyone

Leslie Findlay - Tuesday, 26th October 2010, over a year ago

a nice smell and no moths so far