Measuring your ironing board
You must ensure that your ironing board is the correct size for this product.
To ensure the correct fit the board should be measured at its widest point including the depth and its longest point including the depth.
Length = A + C + C
Width = B + C + C
We've made all of our ironing board covers a slightly more generous size to cope with the multiple options of ironing boards available.
Are you sure that this cover will fit your shape & size of Ironing Board?
Homepage > 1 Pack of 3 Purple Plastic Hangers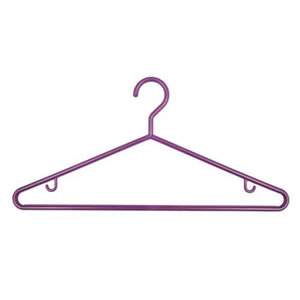 Questions? Call us anytime on 08000 199 309 INTERNATIONAL +44 (0) 207 267 5003
Each Pack contains 3 Strong Purple Plastic Hangers
1 Pack of Purple Plastic Hangers. Pack contains 3 Hangers.
Brighten up your wardrobe with these Purple hangers.
P3 plastic hangers with skirt hook available in a wide range of bright colours.
Width = 43 cms (17'')
This product can be found in the following locations:
sam cotton - Monday, 1st April 2013, 2months ago

As described

brian.sampson22012 - Friday, 26th October 2012, 7months ago

excellent product, fast delivery

Laura Manly - Thursday, 30th August 2012, 9months ago

It does what it should!

Gillian Bassett - Friday, 11th May 2012, over a year ago

Perfect for the laundry, and readily identifiable if anyone pinches them for use anywhere else in the house....

Asma Hashmi - Friday, 28th October 2011, over a year ago

Attractive and functional hangers! Colour is really stunning! Definitely worth waiting for!

Frances Allan - Friday, 13th August 2010, over a year ago

These hangers are perfect for keeping my daughters wardrobe organised and looking great. Very handy hooks for strappy tops and dresses. Very pleased with purchase, wish I'd ordered enough for me too.