Measuring your ironing board
You must ensure that your ironing board is the correct size for this product.
To ensure the correct fit the board should be measured at its widest point including the depth and its longest point including the depth.
Length = A + C + C
Width = B + C + C
We've made all of our ironing board covers a slightly more generous size to cope with the multiple options of ironing boards available.
Are you sure that this cover will fit your shape & size of Ironing Board?
Homepage > 1 Pack of 6 Zig Zag Drawer Dividers
1 Pack of 6 Zig Zag Drawer Dividers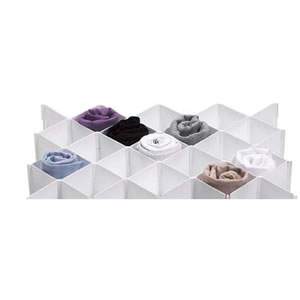 Back In Stock
Questions? Call us anytime on 08000 199 309 INTERNATIONAL +44 (0) 207 267 5003
Buy 1 Pack of 6 Zig Zag Drawer Dividers
Small Compartments for your Smalls

1 Pack of 6 Zig Zag Drawer Dividers Reviews »
Average 5.0/5 from 1 reviews.
Easily Assembled Zig Zag Dividers for your socks, panties and tights, there are 6 Dividers per pack. They help you to organize your smalls and you will save time and effort when selecting small items such as socks.
These Dividers have small compartments size 8cm x 8cm (3" x 3") with length of 44cms (17 1/4") and height of 7cms (3/4"). The section lengths can be cut to the required length.
To Assemble: Place one section on a flat surface, align the slots with those of a second section and simply slide them together.
1 Pack of 6 Zig Zag Drawer Dividers can be found in the following locations:
Rating:
Customer Review:
sturdy and adaptable
Reviewed By:
julia nelson
|
Review Date:
25-10-2012