Measuring your ironing board
You must ensure that your ironing board is the correct size for this product.
To ensure the correct fit the board should be measured at its widest point including the depth and its longest point including the depth.
Length = A + C + C
Width = B + C + C
We've made all of our ironing board covers a slightly more generous size to cope with the multiple options of ironing boards available.
Are you sure that this cover will fit your shape & size of Ironing Board?
Homepage > Room Fresh Collection > Drawer Fresh > 1 Pack of Wooden Cedar Balls (20 in pack)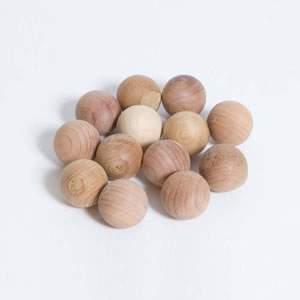 Questions? Call us anytime on 08000 199 309 INTERNATIONAL +44 (0) 207 267 5003
Cedar Balls in wood - Pack of 15
Cedar wood is the natural moth repellent
Place these little cedar wooden balls in drawers & cupboards
Cedar wood has a wonderful aromatic fresh fragrance
Caraselle has an extensive range of Cedar Wood products
Great. They are quite classy - would have no problem buying lots of these. Good value too.
Cedar balls made out of natural American cedarwood are a must for any wardrobe, drawer or storage system. Natural cedar balls complement our other cedar products beautifully and can be placed in any drawer, shoes, wardrobe, shoe box, storage bags, car, caravan or boat. Why not try some natural cedarwood balls today?
Diameter of the balls is 20 mm.
This product can be found in the following locations:
david cary - Sunday, 17th March 2013, 3months ago

Good product. Would recommend to anyone.

Chella Scott - Sunday, 20th January 2013, 5months ago

Edward James - Tuesday, 21st August 2012, 10months ago

Great and useful for anyone plagued by moths.

john payne - Wednesday, 8th August 2012, 10months ago

Great. They are quite classy - would have no problem buying lots of these. Good value too.

Tony Dixon - Wednesday, 25th July 2012, 10months ago

good as usual

P Levey - Monday, 23rd July 2012, 11months ago

excellent

Dakota Phillips - Sunday, 10th June 2012, 12months ago

I love these!

Tracey Allen - Monday, 13th February 2012, over a year ago

Didn't actually want these as "mothballs", rather to place in the garden as a cat deterrent! So far not worked for that, but they smell nice so wouldn't mind using them for their purpose if we had a moth problem.

Barbara Naish - Friday, 20th May 2011, over a year ago

This product has a pleasnt smell. and hopefully will resolve my moth problem .I shall inform you of the results at a later date.
Thankyou for your attention
B Naish

BARRY LONG - Thursday, 28th April 2011, over a year ago

excellent product and service.

Leslie Findlay - Tuesday, 26th October 2010, over a year ago

does what it says on the packet

Christopher Blevins - Wednesday, 20th October 2010, over a year ago

Good value for this item, and a very speedy delivery

Carol Baker - Wednesday, 28th July 2010, over a year ago

First time use and so far they are working well!!

David Cullington - Thursday, 3rd June 2010, over a year ago

Useful for puttin in drawers, but not so easy to sandpaper, and wasteful of cedar spray.

Anne Thompson - Saturday, 10th April 2010, over a year ago

seem to be working well

A M Lomax - Monday, 15th February 2010, over a year ago

Good product, works well and decorative too.

Janet Halbard - Thursday, 11th February 2010, over a year ago

Bill Renwick - Thursday, 21st January 2010, over a year ago

no moths been around for ages

abdul vali - Friday, 20th November 2009, over a year ago

KEEP WITH YOUR KNITWEAR