Measuring your ironing board
You must ensure that your ironing board is the correct size for this product.
To ensure the correct fit the board should be measured at its widest point including the depth and its longest point including the depth.
Length = A + C + C
Width = B + C + C
We've made all of our ironing board covers a slightly more generous size to cope with the multiple options of ironing boards available.
Are you sure that this cover will fit your shape & size of Ironing Board?
Homepage > 20 Cedar Moth Balls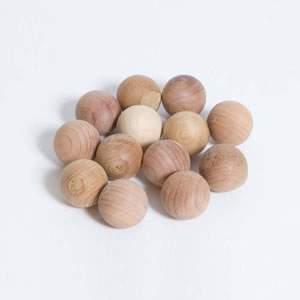 Back In Stock
Questions? Call us anytime on 08000 199 309 INTERNATIONAL +44 (0) 207 267 5003
Buy 20 Cedar Moth Balls
Cedar Balls in wood - Pack of 20
Cedar wood is the natural moth repellent
Place these little cedar wooden balls in drawers & cupboards
Cedar wood has a wonderful aromatic fresh fragrance
Caraselle has an extensive range of Cedar Wood products
I have scattered these in drawers etc around my house. I have only just used them, but it feels better to have done something which hopefully will have more impact than lavender bags. Time will tell.
Average 4.5/5 from 25 reviews.
Cedar Moth balls made out of natural American cedarwood are a must for any wardrobe, drawer or storage system.

Natural wooden cedar moth balls complement our other cedar products beautifully and can be placed in any drawer, shoes, wardrobe, shoe box, storage bags, car, caravan or boat.

Why not try some natural cedar wood balls today?

Diameter of the balls is 20mm.
20 Cedar Moth Balls can be found in the following locations: