Measuring your ironing board
You must ensure that your ironing board is the correct size for this product.
To ensure the correct fit the board should be measured at its widest point including the depth and its longest point including the depth.
Length = A + C + C
Width = B + C + C
We've made all of our ironing board covers a slightly more generous size to cope with the multiple options of ironing boards available.
Are you sure that this cover will fit your shape & size of Ironing Board?
Homepage > Pet Hair Removers > Roller Refills > 20 Metre Jumbo Caraselle Roller Refill
20 Metre Jumbo Caraselle Roller Refill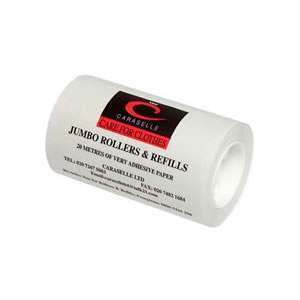 Good Housekeeping Institute
Questions? Call us anytime on 08000 199 309 INTERNATIONAL +44 (0) 207 267 5003
Buy 20 Metre Jumbo Caraselle Roller Refill
Jumbo Lint & Pet Hair Remover Refill
20m or Adhesive Paper that can be torn off easily once used
A quick and easy way to rid your home, car or wardrobe of dust and hair
To be used in conjucntion with the Caraselle Jumbo Lint Roller Brush
We use these for removing dog hairs from rugs on our wood flooring. A very good length the 20metre roll.

20 Metre Jumbo Caraselle Roller Refill Reviews »
Average 4.6/5 from 8 reviews.
Simply attach this Roller Refill to your Jumbo Caraselle Lint Remover Roller Brush for an extra 20 Metres of usage. The longest and stickiest brush of it's kind on the market!
20 Metre Jumbo Caraselle Roller Refill can be found in the following locations: