Measuring your ironing board
You must ensure that your ironing board is the correct size for this product.
To ensure the correct fit the board should be measured at its widest point including the depth and its longest point including the depth.
Length = A + C + C
Width = B + C + C
We've made all of our ironing board covers a slightly more generous size to cope with the multiple options of ironing boards available.
Are you sure that this cover will fit your shape & size of Ironing Board?
Homepage > 3 Standard Size Vacuum Organisers for Hanging and Storing Clothes
3 Standard Size Vacuum Organisers for Hanging and Storing Clothes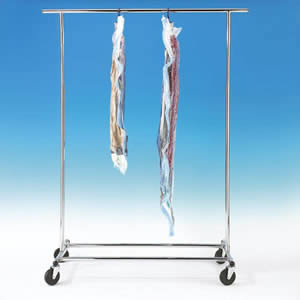 Questions? Call us anytime on 08000 199 309 INTERNATIONAL +44 (0) 207 267 5003
Buy 3 Standard Size Vacuum Organisers for Hanging and Storing Clothes
Protective Clothes Bags for Long Term Storage of Hanging Clothes and Reducing Volume by up to 75%.
If you can't make your wardrobe larger, then you can make your stuff smaller! Introducing a wonderful way to store your jackets, shirts, coats, dresses etc. The Hanging Vacuum Organiser compresses your clothes safely inside a special bag which has a seal and a valve into which you place your vacuum hose to extract the air from the bag. This protects your clothes from dust, dirt, moisture, moths and insects (The clothes should be clean before sealing the bag). It can be wiped clean inside and out, and can be used for many years (although it is recommended that stored items are removed every 6 months for airing).
Think Small! Gain up to 3 times more storage space.
The size of the standard bag is 105 x 70cms approximately and each bag takes up to 5kg of clothes.
The bag creates up to three times more hanging space on crowded wardrobe rails and cupboards. You may like to hang the bags on a sturdy chrome clothes rail, which we supply 3ft and 6ft.
Please bear in mind that the bags are not suitable for leather, fur or silk material, and they should not be used with feather and down filled items or perishable foods. They should be stored away from heat sources such as radiators and water tanks or airing cupboards.
When hanging the bag, it would be best to hang it not with a metal hooked hanger but with a plastic hanger (which you can find under 'clothes hangers' if you do not have any at home).
| | |
| --- | --- |
| | Step One: Select the clothes that you wish to store in the bag, ensuring that they are clean and dry. Make sure there is sufficient bag lenth for items to hang straight. The maximum recommended weight of stored item is 5kg per bag. |
| | Step Two: Attach the main hanger to the valve by screwing clock-wise. Open the bag by gently pulling apart from the centre of the sealing strip. Place the items to be stored on hangers and hook through the eye under the hook/alve. To seal, glide the slider to the bottom of the bag and back again ensuring the bag is well sealed. Be careful not to tear the bag, don't put sharp objects inside it. |
| | Step Three: Unscrew anti-clockwise the main hanger from the valve. Place the hose from the vacuum cleaner over the valve. Switch on the vauum cleaner to extract air from the bag. |
| | Step Four: Replace the main hanger into the valve and the clothes can then be hung in either the wardrobe or on a convenient hanging rail. We currently sell 3ft chrome clothes rails and 6ft chrome clothes rails which are very sturdy and perfect for anging the compressed bags on. |
| | Step Five: When the air is removed the compressed Hanging Vacuum Organiser provides 75% more rail space. Remember not to store the bag near to radiators or heat sources, and preferably use plastic rather than metal hangers. You can buy plastic hangers from our site. We recommend that you remove and air the items after around 6 months. Not suitable for leather, fur or silk materials or feather and down filled items or perishable foods. |
3 Standard Size Vacuum Organisers for Hanging and Storing Clothes can be found in the following locations: