Measuring your ironing board
You must ensure that your ironing board is the correct size for this product.
To ensure the correct fit the board should be measured at its widest point including the depth and its longest point including the depth.
Length = A + C + C
Width = B + C + C
We've made all of our ironing board covers a slightly more generous size to cope with the multiple options of ironing boards available.
Are you sure that this cover will fit your shape & size of Ironing Board?
Homepage > Garment Rails > 4ft Superior All Black Clothes Rail with stronger than the normal rail frame.
All items shown hanging on the rail are sold separately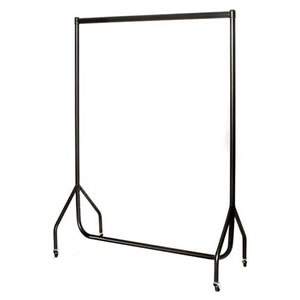 Questions? Call us anytime on 08000 199 309 INTERNATIONAL +44 (0) 207 267 5003
High Quality Black Clothes Rail Size: 3ft and see below for 6ft Black Rail
All black portable clothes rail with strong & sturdy construction
Caraselle Garment Rail Covers and extension pieces are available to make rail height adjustable
Rail Dimensions - W 122 cms H 155 cms (48" x 61") Depth = 50 cms (20")
Comes with nylon castors to make it portable and more versatile
Easy to assemble
Very strong rail good height and excellent for clothes
New to our range is this strong and robust 4ft Black Clothes Rail. It is more sturdy and substantial than many others on the market, and is easy to assemble and long lasting. It has a black top bar and black frame, and nylon castors. All items shown hanging on the rail are sold separately.
The dimensions of the rail are W 122 cms ( 48" ) H 155 cms (61") Depth = 50 cms ( 20" )
(Rail will be delivered Flat Pack)
This product can be found in the following locations:
susan williams - Saturday, 20th April 2013, 2months ago

very pleased with this clothes rail seems very strong with lots of room for hanging coats etc

Debbie Carroll - Tuesday, 13th November 2012, 7months ago

absolutely great rails and can hold so much.

Joanne Jones - Wednesday, 20th June 2012, 12months ago

I use the produce to hang my husbands shirts. This is long term-temporary until we decorate and refurnish the room. I would recommend the rail for anyone looking for similar long term or temporary hanging accommodation.

geoffrey Black - Tuesday, 17th January 2012, over a year ago

Very strong rail good height and excellent for clothes

Diana Cole - Tuesday, 9th August 2011, over a year ago

Excellent clothes rails. Ordered one for myself to display my vintage dress collection, my daughter loved it so much I ordered one for her. Very easy to put together, very sturdy. I have the height extenders on mine, which are easy to slot on, do not make it any less sturdy and are great for the long dresses. Highly recommended! Superfast delivery and well-packaged.

Carole Hughes -Mack - Monday, 25th July 2011, over a year ago

Could swing on it! it is superior to all the top end of the Market stores

Ann Nash - Tuesday, 7th June 2011, over a year ago

I was very impressed with the hanging rail. It is quite sturdy and easy to wheel around. It is brilliant for Winter coats and clothes that you do not wear every day as well as everyday clothes. Thanks for your speedy delivery.

P B Curtis - Thursday, 14th April 2011, over a year ago

Very easy to put together and very strudy

David Houlis - Thursday, 5th August 2010, over a year ago

I bought two of these clothes rails. They are very strong, easy to erect & look nice. I was moving house so I put all of our clothes on the two rails & the removal men had no problem carrying them upstairs into our new home. I would 100% recommend these to anyone as they are far superior to the ones on the high-street & worth the extra money.

Charlotte Ford - Monday, 26th April 2010, over a year ago

Perfect for what I needed, very sturdy, extremely fast delivery.

E SMITHER - Friday, 23rd April 2010, over a year ago

First class servics, arrived in less than 24 hours of placing order.
E S. COLCHESTER

C Stout - Wednesday, 16th December 2009, over a year ago

Received excellent service. Courteous attitude throughout.
Rail is excellent, very sturdy, easy to put together, very good price. Would recommend company and the product.