Measuring your ironing board
You must ensure that your ironing board is the correct size for this product.
To ensure the correct fit the board should be measured at its widest point including the depth and its longest point including the depth.
Length = A + C + C
Width = B + C + C
We've made all of our ironing board covers a slightly more generous size to cope with the multiple options of ironing boards available.
Are you sure that this cover will fit your shape & size of Ironing Board?
Homepage > 5 Caraselle Multi-Hanging Hanger Bars with 6 Silver Hangers included
5 Caraselle Multi-Hanging Hanger Bars with 6 Silver Hangers included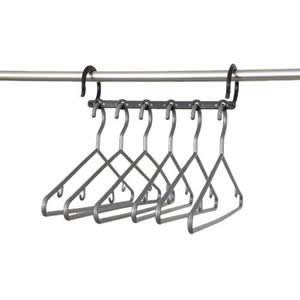 Questions? Call us anytime on 08000 199 309 INTERNATIONAL +44 (0) 207 267 5003
Maximise space in your wardrobe
Hang 6 shirts in the same space as 1
Ideal for boats & caravans
Ideal Gift
Fair quality for the price; does what it says
Space saving storage solution, each hanger for hanging 6 Trousers / 6 Shirts for those with limited clothes hanging space. The Hangers can be hung across the bar or vertically. Complete with 6 silver hangers. The bar is great when travelling, as you can simply unhook it complete with trousers, shirts etc, and pop it into a zipped clothes cover bag. No need for packing and unpacking! Makes an original and practical gift idea!
This product can be found in the following locations:
janice hoiles - Tuesday, 17th July 2012, 11months ago

Fair quality for the price; does what it says

Mrs G.V.M. Scott - Wednesday, 20th July 2011, over a year ago

Ideal for an overcrowded wardrobe!

D C Hurt - Monday, 14th June 2010, over a year ago

Very handy product,gives more space.

Maria McCabe - Wednesday, 9th July 2008, over a year ago

Hi there,

I would just like to say 'THANKYOU' for the quick delivery of the multi-hangers that I ordered.

The original order was mis-placed but the replacement order has arrived prompt, with an added bonus of a roller brush which will come in most handy.

Many thanks again & I look forward to ordering from you again.

Maria McCabe

Julie Rawlings - Tuesday, 25th March 2008, over a year ago

I have been looking for these multi-coathangers for years! I didn't think anyone made them anymore,i have had some for about 15yrs,they are great they give you so much extra room in your wardrobe,so you can buy more clothes!! Caraselle Direct were very quick with the order and i received them in about two days.I recommend every woman to buy these great multi-hangers so that their partners no longer moan at them for taking up too much room in the wardrobe. Thanks Caraselle Direct,glad i found you on Amazon.