Measuring your ironing board
You must ensure that your ironing board is the correct size for this product.
To ensure the correct fit the board should be measured at its widest point including the depth and its longest point including the depth.
Length = A + C + C
Width = B + C + C
We've made all of our ironing board covers a slightly more generous size to cope with the multiple options of ironing boards available.
Are you sure that this cover will fit your shape & size of Ironing Board?
Homepage > Garment Rails > 5 foot > 5ft Robust Chrome and Black Clothes Rail with stronger than the normal rail frame.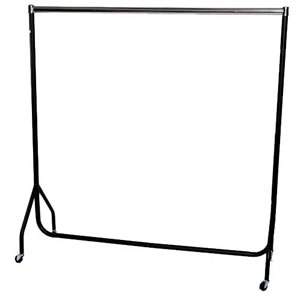 Questions? Call us anytime on 08000 199 309 INTERNATIONAL +44 (0) 207 267 5003
High Quality Clothes Rail Size: 5ft
Robust Black and Chrome portable clothes rail with strong & sturdy construction
Caraselle Garment Rail Covers and extension pieces are available to make rail height adjustable
Rail Dimensions - W 152 cms H 155 cms (60" x 61") Depth = 50 cms (20")
Comes with nylon castors to make it portable and more versatile
Easy to assemble
Explain that it is easy to put together except for the 4th caster
New to our range is this strong and robust 5ft Chrome Clothes Rail. It is more sturdy and substantial than many others on the market, and is easy to assemble and long lasting. It has a chrome top and black frame, and nylon castors.
The dimensions of the rail are 155cms (61") high by 152cms (60") wide. Depth = 50 cms ( 20" )
(Rail will be delivered Flat Pack) The rail is sold separately from any other items demonstrated.
This product can be found in the following locations:
Lynda Pearson - Friday, 29th June 2012, 11months ago

Good product- very sturdy & exactly as described.nExcellent service - arrived next day. Would definitely recommend to family and friends

Carole Abrahart - Thursday, 22nd March 2012, over a year ago

Very robust rail not at all unstable. It was very easy to put together no tools needed. I used it to organise wardrobes and then store out of season items in the loft. Easy to move as wheels glide smoothly.

J Rue - Wednesday, 23rd November 2011, over a year ago

Explain that it is easy to put together except for the 4th caster

Barbara Ringer - Tuesday, 14th June 2011, over a year ago

Perfect for when we moved house. It is now in the loft to take out of season clthes.

B T Saunders - Thursday, 14th April 2011, over a year ago

EASY TO ASSEMBLE - good quality

Brian Wilson - Thursday, 31st March 2011, over a year ago

Easy to assemble and no need for screws or tools. Very robust and strong and its a substantial rail frame, but not heavy not unwieldy. I'd definitely buy this again. One minor thing, if the castors had foot-pressed brakes it'd be perfect.

Maureen Harris - Thursday, 4th November 2010, over a year ago

excellent product, does the job excellently.
Arrived exactly 24 hours after placing the order.....couldn't believe it !

Ann Davis - Sunday, 13th December 2009, over a year ago

Just what I wanted and so easy to put together.