Measuring your ironing board
You must ensure that your ironing board is the correct size for this product.
To ensure the correct fit the board should be measured at its widest point including the depth and its longest point including the depth.
Length = A + C + C
Width = B + C + C
We've made all of our ironing board covers a slightly more generous size to cope with the multiple options of ironing boards available.
Are you sure that this cover will fit your shape & size of Ironing Board?
Homepage > Garment Rails > Chrome Mini Rail > All Chrome Mini Rail - Adjustable Width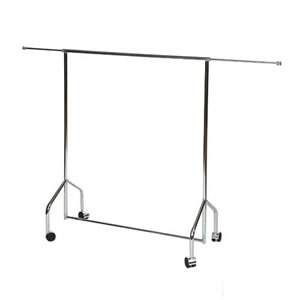 Questions? Call us anytime on 08000 199 309 INTERNATIONAL +44 (0) 207 267 5003
Suitable for Separates, Childrens' Clothes, Fabric Samples.
Very happy with this and the fact it is adjustable
Our strong All Chrome Mini Garment Rail on casters (4cm diameter) has pull out arms to give 56" (142cms) of Hanging Space.
The height is 40" or 102 cms and the length is 32" with an arm at either side of 12" each.
Quick to Assemble (supplied in 8 parts) this Mini Garment Rail is ideal for separates, childrens clothes, fabric samples etc. It is lightweight and flat packed. Supplied in a box.
Savings on two and three mini rails.
This product can be found in the following locations:
Cassandra Murray - Thursday, 21st June 2012, 12months ago

Sturdy and very strong

- Sunday, 20th May 2012, 13months ago

Very happy with this and the fact it is adjustable

Irene Scullion - Monday, 5th December 2011, over a year ago

product good and study but expensive

A WYlie - Thursday, 3rd June 2010, over a year ago

An excellent product. Arrived in great time. Fabulous for my twin girls ever expanding wardrobe !!