Measuring your ironing board
You must ensure that your ironing board is the correct size for this product.
To ensure the correct fit the board should be measured at its widest point including the depth and its longest point including the depth.
Length = A + C + C
Width = B + C + C
We've made all of our ironing board covers a slightly more generous size to cope with the multiple options of ironing boards available.
Are you sure that this cover will fit your shape & size of Ironing Board?
Homepage > Kitchen > Anylock Sealing Packs and Locks > Anylock Pack - Medium
Anylock Pack - Medium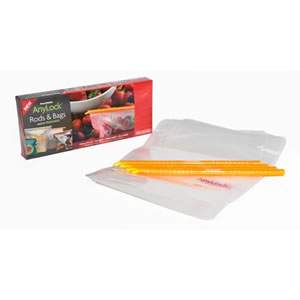 Lower_Price

Questions? Call us anytime on 08000 199 309 INTERNATIONAL +44 (0) 207 267 5003
Buy Anylock Pack - Medium
Pack Contains 4 Medium Sealing Rods & 8 Medium Freshness Bags
Anylock Pack - Medium.

Each pack contains 4 medium sealing rods & 8 medium Freshness Bags ( 195 x 260 mm ).

An amazingly simple & easy to use system of sealing literally any type of bag. Will keep food fresher & airtight!

Use Anylock Sealing Rods to re-seal open packs : Breakfast Cereals, Snacks, Pasta, Rice & Pet Food Snacks etc. Odour proof, Airtight, Watertight & Re-useable.

Will keep food fresher & airtight. One of the most useful kitchen accessories that we have ever seen.
Anylock Pack - Medium can be found in the following locations: