Measuring your ironing board
You must ensure that your ironing board is the correct size for this product.
To ensure the correct fit the board should be measured at its widest point including the depth and its longest point including the depth.
Length = A + C + C
Width = B + C + C
We've made all of our ironing board covers a slightly more generous size to cope with the multiple options of ironing boards available.
Are you sure that this cover will fit your shape & size of Ironing Board?
Homepage > Black Steel Shoe Rack with 4 Shelves
Black Steel Shoe Rack with 4 Shelves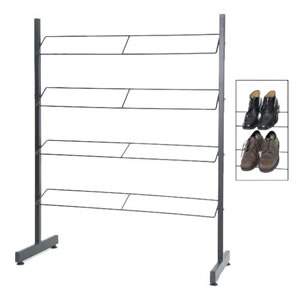 Questions? Call us anytime on 08000 199 309 INTERNATIONAL +44 (0) 207 267 5003
Buy Black Steel Shoe Rack with 4 Shelves
Shoe Rack with 4 Shelves made of high quality Black finish Steel. For use in offices, schools, shops etc. Carriage Free.
Strong & sturdy construction
Ideal for both domestic & retail use
Easy assembly
Caraselle's Shoe Rack is made of extremely high quality Steel, finished in Black.
Our Black Steel Shoe Rack has four shelves and has height adjustable feet to keep it secure.
Delivered flat pack it is very easy to assemble.
Height: 123cms (48") Width: 97cms (38") Depth: 40cms (16")
For use in offices, schools, shops etc
Black Steel Shoe Rack with 4 Shelves can be found in the following locations: