Measuring your ironing board
You must ensure that your ironing board is the correct size for this product.
To ensure the correct fit the board should be measured at its widest point including the depth and its longest point including the depth.
Length = A + C + C
Width = B + C + C
We've made all of our ironing board covers a slightly more generous size to cope with the multiple options of ironing boards available.
Are you sure that this cover will fit your shape & size of Ironing Board?
Homepage > 1 Pair of Boot Shaping Storage Inserts for Knee Length Boots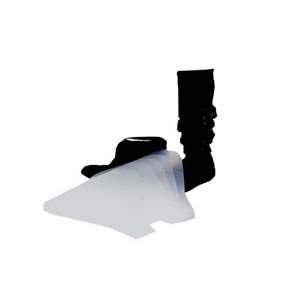 Questions? Call us anytime on 08000 199 309 INTERNATIONAL +44 (0) 207 267 5003
Pair of Boot Supports to Keep Your Boots in Shape
The modern way to store & protect shoes
Keep your boots in immaculate shape
Keeps boots rigid and in shape so boots don't get marked
Suitable for both Tall and Ankle boots
Manufactured in the UK
I have loads of these and find them an economical alternative to the very expensive wooden boot shapers. I definitely recommend these for anyone with an extensive boot collection!
Keep your winter Boots in immaculate shape with our new Clear Knee Length Boot Shaper inserts They come in pairs and we are offering packs of one pair and five pairs of Boot Shapers.
Our Boot Shapers are suitable for Tall Boots and also Ankle Boots, because there is a score line which allows for the Shaper to be reduced in size to fit Ankle Boots.
Made of high quality polypropylene
This product can be found in the following locations:
maggie richardson - Thursday, 9th May 2013, 11days ago

Good quality for price

Jeanette Williams - Tuesday, 26th March 2013, 2months ago

Excellent quality

Jane Kendrick-Phillips - Monday, 18th February 2013, 4months ago

Good quality product. Exactly what I wanted.

Shona Watters - Tuesday, 12th February 2013, 4months ago

I have loads of these and find them an economical alternative to the very expensive wooden boot shapers. I definitely recommend these for anyone with an extensive boot collection!

andrianivintage7 - Saturday, 1st December 2012, 6months ago

Perfect. When not in use easily storable. Great for the price.

andrianivintage7 - Saturday, 1st December 2012, 6months ago

Perfect. When not in use easily storable. Great for the price.

assos123 - Thursday, 29th November 2012, 6months ago

carolp2573 - Friday, 16th November 2012, 7months ago

Brilliant idea. Storing my boots has always been difficult, but with these inserts, they just stand up in the bottom of the wardrobe. I wish I'd discovered them years ago.

Carole Brooks - Tuesday, 12th June 2012, 12months ago

good quality product and easy to use

Carole Brooks - Tuesday, 12th June 2012, 12months ago

perfect for the job, simple and efficient

Penelope Bland - Monday, 2nd January 2012, over a year ago

They do the job there intended for extremely well, thank you.

FAIZA SINDHI - Monday, 12th December 2011, over a year ago

A great and cost effective way of maintaining the shape of my boots.

Ermelinda Beqiraj - Sunday, 4th December 2011, over a year ago

Great and easy to use

barbara everitt - Friday, 11th February 2011, over a year ago

they are excellent

Flavia Campilli - Monday, 20th December 2010, over a year ago

Excellent, Order dispatched immediately.

Bernadette Hawman - Wednesday, 17th November 2010, over a year ago

Excellent product! Also great for longer, over the knee boots. Delivery within 2 days of ordering. I would definitely recommend buying from Caraselle :)

Angela Smith - Thursday, 11th November 2010, over a year ago

Very easy to use. Good cost effective way of keeping boots in good condition

Helen Evans - Friday, 15th October 2010, over a year ago

The inserts I received where of good quality and delivered in a very short time after purchasing them.
I would have no hesitation in recomending your company to any friends & family.

Brian Humphreys - Thursday, 7th January 2010, over a year ago

Great product. So easy to use. No more bent legs.

alex lattin - Monday, 21st December 2009, over a year ago

Great product and a bargain price. You can fold them down a bit so they fit into shin high boots as well as knee highs. Will probably last forever! Quick delivery too.

Nicola New - Saturday, 30th December 2006, over a year ago

Just wanted to let you know how pleased I am with the boot shaping inserts - they work brilliantly, are excellent value for money and are easy to store flat in a drawer! Super fast delivery too - thank you very much. I will recommend you and your products to everyone.
Many thanks, Nicola

Sue - , days ago

Very prompt professional service