Measuring your ironing board
You must ensure that your ironing board is the correct size for this product.
To ensure the correct fit the board should be measured at its widest point including the depth and its longest point including the depth.
Length = A + C + C
Width = B + C + C
We've made all of our ironing board covers a slightly more generous size to cope with the multiple options of ironing boards available.
Are you sure that this cover will fit your shape & size of Ironing Board?
Homepage > Caraselle Bite Relief
Caraselle Bite Relief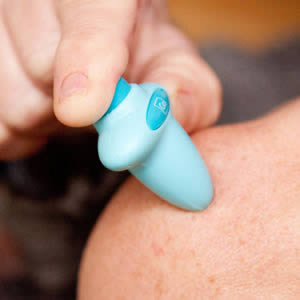 Questions? Call us anytime on 08000 199 309 INTERNATIONAL +44 (0) 207 267 5003
Buy Caraselle Bite Relief
No batteries required.
Small handy size makes for easy transportation.
Can be used for nettle stings and other complaints.
Helps reduce itching and swelling.
Non allergic.
Caraselle Bite Relief gives you instant relief from insect bites and stings.

Just give the affected area a (painless) zap, the electric current generates harmless pain and irritation relief.
Caraselle Bite Relief can be found in the following locations: