Measuring your ironing board
You must ensure that your ironing board is the correct size for this product.
To ensure the correct fit the board should be measured at its widest point including the depth and its longest point including the depth.
Length = A + C + C
Width = B + C + C
We've made all of our ironing board covers a slightly more generous size to cope with the multiple options of ironing boards available.
Are you sure that this cover will fit your shape & size of Ironing Board?
Homepage > Cedar Compact Tie Hanger for 20 Ties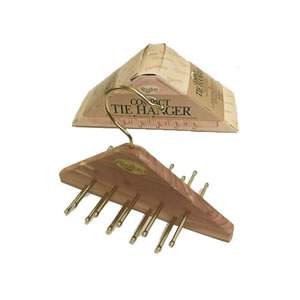 Questions? Call us anytime on 08000 199 309 INTERNATIONAL +44 (0) 207 267 5003
Features Brass Plated Pegs and Hook
Stylish Tie Hanger
Hangs up to 20 Ties
Made From Cedar Wood
An Ideal Stocking Filler
This deluxe Woodlore Compact Tie Hanger from the USA holds 20 ties and emits a wonderful cedar aroma. It features brass plated pegs and hook.
W 25cms D 12 cms H 18 cms (9 3/4 x 4 3/4 x 3 1/8")
As with all of the cedar products, the fragrance of the aromatic cedar can be rejuvenated by lightly sanding with medium sandpaper. Will make an original and long lasting gift for him!
This product can be found in the following locations: