Measuring your ironing board
You must ensure that your ironing board is the correct size for this product.
To ensure the correct fit the board should be measured at its widest point including the depth and its longest point including the depth.
Length = A + C + C
Width = B + C + C
We've made all of our ironing board covers a slightly more generous size to cope with the multiple options of ironing boards available.
Are you sure that this cover will fit your shape & size of Ironing Board?
Homepage > Garment Rails > Wall Mounted Rails > Chrome Wall Mounted Heavy Duty 6ft Garment Rail
Chrome Wall Mounted Heavy Duty 6ft Garment Rail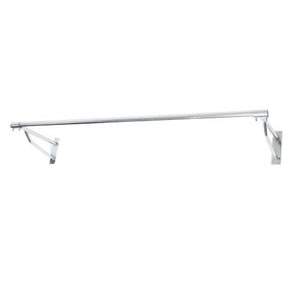 Questions? Call us anytime on 08000 199 309 INTERNATIONAL +44 (0) 207 267 5003
Ideal for industrial use, restaurants & hotels etc
6ft Heavy Duty Wall Mounted Chrome Garment Rail with chrome finish.
Supplied with 2 wall brackets (fixing screws are not supplied)
Depth of Wall Bracket = 32 cms ( 12 1/2" )
Note:
We would strongly suggest using at least one extra wall bracket (Reference:1323) for additional support with a 6' long rail.
This product can be found in the following locations:
Graham Watson - Monday, 16th July 2012, 11months ago

Excellent

annette kemp - Friday, 29th June 2012, 11months ago

high quality,does exactly what it says on the the tin,exellent

Alec Thorne - Thursday, 10th February 2011, over a year ago

Not brilliant quality but sturdy and value for money

Derek Moxam - Sunday, 27th June 2010, over a year ago

Just unpacked and put it up today, it looks just as the description strong; sturdy etc. If you are looking for a heavy duty garment rail then you cant go wrong with this!