Measuring your ironing board
You must ensure that your ironing board is the correct size for this product.
To ensure the correct fit the board should be measured at its widest point including the depth and its longest point including the depth.
Length = A + C + C
Width = B + C + C
We've made all of our ironing board covers a slightly more generous size to cope with the multiple options of ironing boards available.
Are you sure that this cover will fit your shape & size of Ironing Board?
Homepage > Brushes & Lint Rollers > Defuzza Knitwear Brush > Colibri 5 sachets Cedar Wood
Colibri 5 sachets Cedar Wood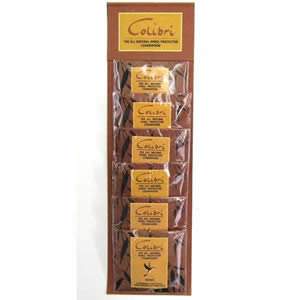 Questions? Call us anytime on 08000 199 309 INTERNATIONAL +44 (0) 207 267 5003
Brand new product from Colibri. The All Natural Anti Moth pack of 6 Sachets with Cedar Wood. The fragrance will keep your woollens safe & fresh. Use the sachets in drawers, cupboards, lockers etc
Contains 100% pure botanical essences from eucalyptus citriodora, vetiver, peppermint, clove, lemongrass & with added cedarwood oil in a fine sandalwood powder base. Colibri does not contain animal elements & has not been tested on animals.
Each pack contains 5 sachets.
This product can be found in the following locations:
Brian Tesler - Monday, 19th September 2011, over a year ago

Equally, looks good, smells great, but too early tosay how the moths like it.

Maddy Roberts - Thursday, 8th September 2011, over a year ago

2nd year in a row ordered - very, very good, although expensive.

Eva SChwarz - Friday, 16th July 2010, over a year ago

Judith Cohen - Thursday, 25th March 2010, over a year ago

Excellent.