Measuring your ironing board
You must ensure that your ironing board is the correct size for this product.
To ensure the correct fit the board should be measured at its widest point including the depth and its longest point including the depth.
Length = A + C + C
Width = B + C + C
We've made all of our ironing board covers a slightly more generous size to cope with the multiple options of ironing boards available.
Are you sure that this cover will fit your shape & size of Ironing Board?
Homepage > Defuzza Comb
Defuzza Comb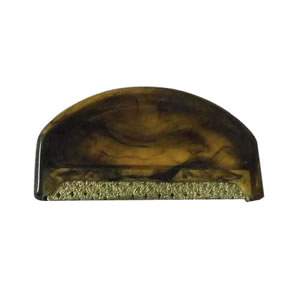 Questions? Call us anytime on 08000 199 309 INTERNATIONAL +44 (0) 207 267 5003
Buy Defuzza Comb
A fabric comb for defuzzing knitwear
Simply use the comb over the problem area of the garment.
Allow comb extract all the fluff and fuzz with ease.
Use light brush strokes with the comb.
Garments must be pulled tight for a quick result.
Travel size - only 8cm x 4.5cm (3" x 1 3/4").
I have a number of jumpers which over a period develop fluffy 'bits' on them. I have only used the defuzzer once so far but I found it to be pretty effective removing these and will give some of my garments a longer life expectancy.
Average 4.9/5 from 7 reviews.
Simply use the De Fuzz It Comb over the problem area of the garment

Let the comb extract all the fluff and fuzz with ease.

Use light brush strokes with the defuzzer comb.

Garments must be pulled tight for a quick result.

The Defuzzer is a very handy size for travel - only 8cm x 4.5cm (3" x 1 3/4")
Defuzza Comb can be found in the following locations: