Measuring your ironing board
You must ensure that your ironing board is the correct size for this product.
To ensure the correct fit the board should be measured at its widest point including the depth and its longest point including the depth.
Length = A + C + C
Width = B + C + C
We've made all of our ironing board covers a slightly more generous size to cope with the multiple options of ironing boards available.
Are you sure that this cover will fit your shape & size of Ironing Board?
Homepage > Deo-Go Deodorant Stain Remover 300ml
Deo-Go Deodorant Stain Remover 300ml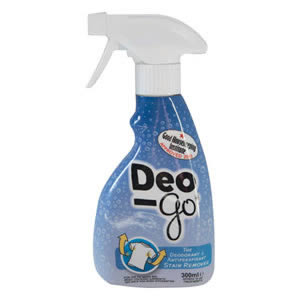 Back In Stock
Questions? Call us anytime on 08000 199 309 INTERNATIONAL +44 (0) 207 267 5003
| | |
| --- | --- |
| | Deo-Go Gives Shirts & Blouses A New Lease Of Life! |
Buy Deo-Go Deodorant Stain Remover 300ml
Deo-Go Deodorant and Anti Perspirant Stain Remover Almond Scented is available in a new 300ml Spray
Deo-Go Deodorant Stain Remover is formulated to completely remove even the most stubborn under-arm s
Get rid of your deodorant stains, not your shirts !
Good Housekeeping Institute approved this as a stain go product. Made in the UK 300ml
This is the only product I know of that can shift those stubborn deodorant marks from clothes - it definitely works and I would recommend it.
Tried Deo-Go on underarm sweat stains on my husband's shirt. It was easy to use and all the stains have gone, leaving the shirt like new. Carlton

Deo-Go Deodorant Stain Remover 300ml Reviews »
Average 4.8/5 from 18 reviews.
Deo-Go is a revolutionary new stain remover. Deo-Go deodorant stain remover has been specifically formulated to remove hardened built-up stains which appear on the armpits of clothing, restoring your clothes to their original appearance.

There is no other product available, which can make these claims, or tackle this type of stain, making Deo-Go totally unique!

Deo-Go deodorant stain remover has been tested extensively on different garments & fabrics, many with extreme staining, ans has always been successful in restoring them to their original condition. Never throw another stained shirt away...use Deo-Go and prepare to be amazed by the
results!

How do stains go with this product?

Deo-Go's active ingredients target the antiperspirant or deodorant residue build-up, dissolving and completely removing stains and stiff patches, restoring the garments original appearance. Check our video to see how stains go away with Deo-Go.

You don't have to worry about stains any more. You can buy Deo-Go deodorant stain remover here.
Deo-Go Deodorant Stain Remover 300ml can be found in the following locations: