Measuring your ironing board
You must ensure that your ironing board is the correct size for this product.
To ensure the correct fit the board should be measured at its widest point including the depth and its longest point including the depth.
Length = A + C + C
Width = B + C + C
We've made all of our ironing board covers a slightly more generous size to cope with the multiple options of ironing boards available.
Are you sure that this cover will fit your shape & size of Ironing Board?
Homepage > Caraselle Gel-Safe Moisture Trap
Caraselle Gel-Safe Moisture Trap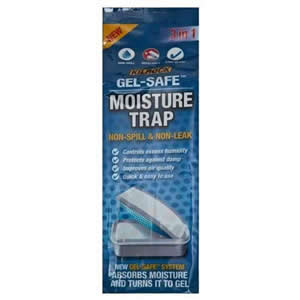 Questions? Call us anytime on 08000 199 309 INTERNATIONAL +44 (0) 207 267 5003
Buy Caraselle Gel-Safe Moisture Trap
The trap turns moisture into a gel, not liquid!
Non - Spill & Non - Leak
Controls excess humidity
Protects against damp
Improves air quality
Quick & easy to use
Quality of product excellent I suffer from chesty problems so will see how this helps.
I am very pleased to be able to let you know that having used the Caraselle Gel-Safe Moisture Trap to clear the condensation from my windows not only have I been able to have clean, clear, windows to see out of which is not causing any damage to my property but even more than that I have experienced a great benefit fo my health too. As I am living with a serious chest complaint any condensation can settle on my chest and I can feel very unwell. However, since using this property the air around me is still clean and fresh, so does not restrict my breathing. It is nice to be able to give you feed back on how this product has made such a difference to me. Thank you, Beryl

Caraselle Gel-Safe Moisture Trap Reviews »
Average 4.6/5 from 12 reviews.
Damp is the main cause of damage to materials in the home. The Gel-Safe system regulates excess humidity, keeping it at the optimum level. This prevents damp, mould, mildew, bacteria & musty odours - improving overall air quality & comfort.

The trap turns moisture into a gel, not liquid.

The Gel-Safe residue cannot be spilled, this makes it ideal for multi-purpose use ie. Wardrobes, cupboards, cars, caravans & boats. The refills are extremely easy to replace with no mess or spillage.

L = 20 cms( 8" ) H = 7 cms (2 3/4" ) D = 9 cms ( 3 1/2" )
Non - Spill & Non - Leak
Controls excess humidity
Protects against damp
Improves air quality
Quick & easy to use
New Gel-Safe system absorbs moisture & turns to gel
Refills available ( two per pack )
Caraselle Gel-Safe Moisture Trap can be found in the following locations: