Measuring your ironing board
You must ensure that your ironing board is the correct size for this product.
To ensure the correct fit the board should be measured at its widest point including the depth and its longest point including the depth.
Length = A + C + C
Width = B + C + C
We've made all of our ironing board covers a slightly more generous size to cope with the multiple options of ironing boards available.
Are you sure that this cover will fit your shape & size of Ironing Board?
Homepage > Homecare > Handy Clips > Handy Clips - Pack of 6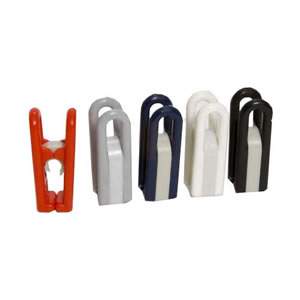 Questions? Call us anytime on 08000 199 309 INTERNATIONAL +44 (0) 207 267 5003
Stylish colourful clips in a pack of 6. So useful in the office, the kitchen, and in any creative ways you can think of using them! Great for clipping papers together in the office, for using as a seal for packets of coffee or rice etc in the kitchen, and even for kids in their bedrooms. Great for clipping together socks in laundry net bags.
Handy Clips - Pack of 6 can be found in the following locations:
Rating:
Customer Review:
Excellent product
Reviewed By:
Anwyn Hunt
|
Review Date:
12-02-2012