Measuring your ironing board
You must ensure that your ironing board is the correct size for this product.
To ensure the correct fit the board should be measured at its widest point including the depth and its longest point including the depth.
Length = A + C + C
Width = B + C + C
We've made all of our ironing board covers a slightly more generous size to cope with the multiple options of ironing boards available.
Are you sure that this cover will fit your shape & size of Ironing Board?
Homepage > "I Love My Wool" Microfibre Wash Bag, 35 x 30cm
"I Love My Wool" Microfibre Wash Bag, 35 x 30cm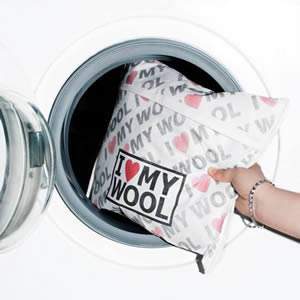 Questions? Call us anytime on 08000 199 309 INTERNATIONAL +44 (0) 207 267 5003
Buy "I Love My Wool" Microfibre Wash Bag, 35 x 30cm
Revolutionary new product from Italy
Revolutionary new Microfibre Energy Efficient Laundry Bag from Italy
Protect delicate fabrics in the wash
Use with silk, lingerie, trainers & lycra - type hi tech sport fabrics
Avoid fading, felting, pilling & shrinking
Ideal Stocking Filler
Caraselle is the first company to introduce this range to the UK.
New Microfibre material that protects Wool, Cashmere, Alpaca, Mohair, whilst in the washing machine. Made of a unique semi - permeable fabric that allows dissolved soap & water through but not dye. The Washing Bag will protect delicates from the vigorous action of the wash cycle. This allows items that would otherwise be damaged by the machine to be gently machine - washed.
This bag can also be used to wash Silk, Lingerie, Trainers & Lycra-type hi-tech sports clothes.
"I Love My Wool" Microfibre Wash Bag, 35 x 30cm can be found in the following locations:
Rating:
Customer Review:
This arrived extremely quickly and included a pet hair brush that I wasn't expecting. The bags were a present for my mother so I don't know yet how well they work, but your service has been excellent,
Reviewed By:
Avril Blagbrough
|
Review Date:
01-06-2010