Measuring your ironing board
You must ensure that your ironing board is the correct size for this product.
To ensure the correct fit the board should be measured at its widest point including the depth and its longest point including the depth.
Length = A + C + C
Width = B + C + C
We've made all of our ironing board covers a slightly more generous size to cope with the multiple options of ironing boards available.
Are you sure that this cover will fit your shape & size of Ironing Board?
Homepage > Homecare > Large bottle of Gonzo Red Wine Out 354ml / 12oz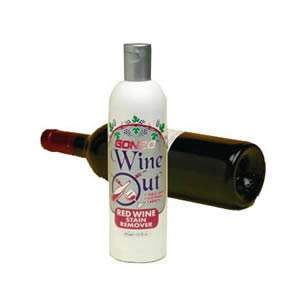 Questions? Call us anytime on 08000 199 309 INTERNATIONAL +44 (0) 207 267 5003
Remove red wine stains from clothing, carpets & upholstery
Unique formation allows effectivity on most red wine stains
Can be used as laundry pre-wash, or instant spot remover
354ml / 12oz
Product appears to have shifted stain - easy to use
Gonzo Red Wine Out Stain Remover removes stains like magic. Don't have a wine evening or dinner party without it, store one way just in case of spillages at wine or dinner parties - you'll impress your guests at the speed that the red stain disappears!
Wine Out is a multi-purpose product. It can remove Red Wine stains from many types of clothing, carpets, upholstery & many other areas where stains might show up. It is most effective when applied to freshly made stains.
Because of its unique formation it is effective on almost all Red Wine stains. It can be used as a laundry pre-wash, or an instant spot remover, allowing garments to be worn immediately after spots have been removed.
When red wine has spilt you can mop it up with salt and leave it for 30 minutes. You can pour some white wine on it to neutralise it. You can dab it with some bleach product (but not if it is spilt onto any colour other than white) but best of all reach for Gonzo Wine-Out. It makes the red colour disappear like magic. Just watch it vanish.
Buy Gonzo Wine-Out before the spill occurs - before Christmas lunch would be a good idea. Save tears - reach for the Gonzo Wine-Out!
This product can be found in the following locations:
Sue Walsh - Monday, 14th January 2013, 5months ago

Product appears to have shifted stain - easy to use

sera mendelsohn - Monday, 20th August 2012, 10months ago

works well

Jill Smith - Monday, 20th February 2012, over a year ago

Works wonders! A very good product.