Measuring your ironing board
You must ensure that your ironing board is the correct size for this product.
To ensure the correct fit the board should be measured at its widest point including the depth and its longest point including the depth.
Length = A + C + C
Width = B + C + C
We've made all of our ironing board covers a slightly more generous size to cope with the multiple options of ironing boards available.
Are you sure that this cover will fit your shape & size of Ironing Board?
Homepage > Pack of 5 Peva Suit Covers
Pack of 5 Peva Suit Covers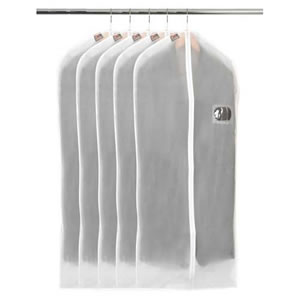 Questions? Call us anytime on 08000 199 309 INTERNATIONAL +44 (0) 207 267 5003
Buy Pack of 5 Peva Suit Covers
5 White Peva Suit Covers protect suits from moths
Strong and robust suit cover
Moth resistant and protects from dust
Frosted coating with transparent contents window
Biodegradable material
Dimensions - 99 x 60cms ( 39" x 24" )
Good for keeping suits in good condition
To all the good people at Caraselle. Thank-you so much for all your help in eradicating my moth infestation. All the products you advised me to get have worked perfectly, just as described. Your delivery time is incredible, next morning, Fantastic.!! Again my Thanks, I have managed to save all but one of my carpets and rugs and for this I and my insurers truly owe you and your wonderful team. Best Regards. Kirk, Barnsbury, Islington

Pack of 5 Peva Suit Covers Reviews »
Average 4.7/5 from 66 reviews.
Strong & robust Suit Cover
Ideal for wardrobe storage
Moth resistant
Protect from dust
Transparent material
See through window
Soft touch fabric
Biodegradable
99 x 60 cms ( 39 x 24" )
Pack of 5 Peva Suit Covers can be found in the following locations: