Measuring your ironing board
You must ensure that your ironing board is the correct size for this product.
To ensure the correct fit the board should be measured at its widest point including the depth and its longest point including the depth.
Length = A + C + C
Width = B + C + C
We've made all of our ironing board covers a slightly more generous size to cope with the multiple options of ironing boards available.
Are you sure that this cover will fit your shape & size of Ironing Board?
Homepage > Moth Deterrents > Pack of 6 Shoe Freshener Balls
Pack of 6 Shoe Freshener Balls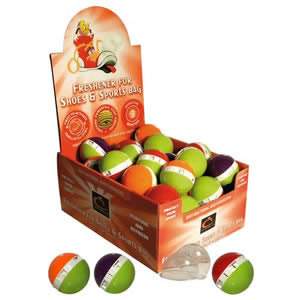 Questions? Call us anytime on 08000 199 309 INTERNATIONAL +44 (0) 207 267 5003
An assortment of colourful scented balls.
Combat foot odour
Ideal for trainers / football boots / running shoes
Great for smelly wellies
Fragranced balls to made with natural essential oils to freshen your shoes. Put them in your shoes and sports bag and the freshners will disinfect by destroying bacteria and fungus responsible for bad smells.
graham malpas - Wednesday, 15th August 2012, 10months ago

like it