Measuring your ironing board
You must ensure that your ironing board is the correct size for this product.
To ensure the correct fit the board should be measured at its widest point including the depth and its longest point including the depth.
Length = A + C + C
Width = B + C + C
We've made all of our ironing board covers a slightly more generous size to cope with the multiple options of ironing boards available.
Are you sure that this cover will fit your shape & size of Ironing Board?
Homepage > Clothes Covers > Wedding Dress Covers > Peva Wedding Dress Cover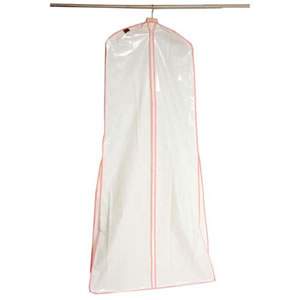 Questions? Call us anytime on 08000 199 309 INTERNATIONAL +44 (0) 207 267 5003
Buy Peva Wedding Dress Cover
Flared at the botom to take the full gown
Polypropyelene hanger included
Ideal for short term storage
Extra long 71" cover
To all the good people at Caraselle. Thank-you so much for all your help in eradicating my moth infestation. All the products you advised me to get have worked perfectly, just as described. Your delivery time is incredible, next morning, Fantastic.!! Again my Thanks, I have managed to save all but one of my carpets and rugs and for this I and my insurers truly owe you and your wonderful team. Best Regards. Kirk, Barnsbury, Islington

Peva Wedding Dress Cover Reviews »
Average 4.7/5 from 3 reviews.
A large storage wedding dress cover for wedding gowns.
Flared to take full skirts with nylon mesh gussets to let the garment breathe.
181 x 88cms (71" x 34").
Flared at the bottom to take the full wedding dress.
Polypropyelene hanger included.
Ideal for use as a wedding dress carrier.
This wedding dress bag is also ideal for short term storage.
Extra long 71" wedding dress cover.
Peva Wedding Dress Cover can be found in the following locations:
Rating:
Customer Review:
Ordered these because I wear a lot of maxi dresses and couldn't get a cover bag long enough without crumpling the bottoms and having to iron the dresses every time I wanted to wear them very impressed.
Reviewed By:
Sharon Payne
|
Review Date:
18-03-2013
Rating:
Customer Review:
product as described n
Reviewed By:
Lynne Dooley
|
Review Date:
13-02-2012
Rating:
Customer Review:
I would recoomend it to those who have problems about keeping tje wedding dress
Reviewed By:
Luis Raposo
|
Review Date:
01-02-2012