Measuring your ironing board
You must ensure that your ironing board is the correct size for this product.
To ensure the correct fit the board should be measured at its widest point including the depth and its longest point including the depth.
Length = A + C + C
Width = B + C + C
We've made all of our ironing board covers a slightly more generous size to cope with the multiple options of ironing boards available.
Are you sure that this cover will fit your shape & size of Ironing Board?
Homepage > Shaped Wooden Suit Hanger with Non-slip Bar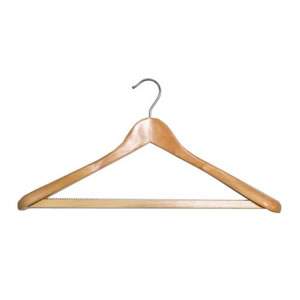 Questions? Call us anytime on 08000 199 309 INTERNATIONAL +44 (0) 207 267 5003
Wooden Hanger with Rubber Teeth to prevent Trousers slipping off
Extra wide with shoulder support
Non - slip trouser bar
excelent product but arrived in a huge box
A beautiful high quality classic wooden Suit Hanger with a non-slip bar with rubber teeth which is designed to prevent trousers slipping off.
46cms (18") wide 4.5cm at shoulders
Savings on larger quantities. See Hanger Section
This product can be found in the following locations:
Kevan Larbey - Thursday, 21st June 2012, 12months ago

excelent product but arrived in a huge box

MORAG HAYES - Monday, 18th June 2012, 12months ago

hang coats on them

Bernard Farrell - Friday, 6th April 2012, over a year ago

nice hangar

Andrew Kennedy - Friday, 23rd September 2011, over a year ago

Great product, sturdy build and a clean finish. No regrets about purchasing!

Caroline Tyndale - Wednesday, 29th June 2011, over a year ago

Very good hangers and useful with the ribbed bar which stops clothes from slipping off.

Andrew Bonner - Saturday, 5th December 2009, over a year ago

No nonsense hanger for the best (no damage) support for your suits.