Measuring your ironing board
You must ensure that your ironing board is the correct size for this product.
To ensure the correct fit the board should be measured at its widest point including the depth and its longest point including the depth.
Length = A + C + C
Width = B + C + C
We've made all of our ironing board covers a slightly more generous size to cope with the multiple options of ironing boards available.
Are you sure that this cover will fit your shape & size of Ironing Board?
Homepage > Tall Shoe Horn
Tall Shoe Horn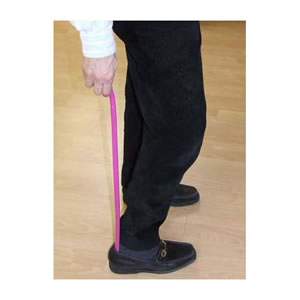 Questions? Call us anytime on 08000 199 309 INTERNATIONAL +44 (0) 207 267 5003
Buy Tall Shoe Horn
Average 5.0/5 from 3 reviews.
New to our site, the luxury Tall Shoe Horn available in Purple or Clear. Our shoe horn measures 60 cms or 24".
This makes for easy putting on of tight or new shoes and helps to protect the backs of the shoes. They are a great aid for those who find bending over to put shoes on difficult or have a stiff back. Useful for both men and women, this makes a great present, and a must for the shoe wardrobe.
Tall Shoe Horn can be found in the following locations:
Rating:
Reviewed By:
Jean Holness
|
Review Date:
24-01-2011
Rating:
Customer Review:
Simple and very effective.
Reviewed By:
Barry Westwood
|
Review Date:
25-03-2010
Rating:
Customer Review:
very robust and as an arthrititis sufferer perfect for the job
Reviewed By:
david clark
|
Review Date:
28-11-2009