Measuring your ironing board
You must ensure that your ironing board is the correct size for this product.
To ensure the correct fit the board should be measured at its widest point including the depth and its longest point including the depth.
Length = A + C + C
Width = B + C + C
We've made all of our ironing board covers a slightly more generous size to cope with the multiple options of ironing boards available.
Are you sure that this cover will fit your shape & size of Ironing Board?
Homepage > Storage Bags and Chests > The Caraselle Peva Zip Up Underbed Storage Blanket Bag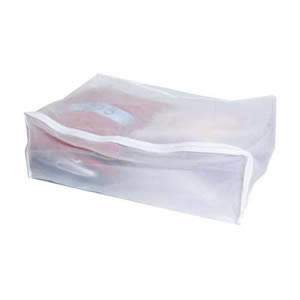 Questions? Call us anytime on 08000 199 309 INTERNATIONAL +44 (0) 207 267 5003
Caraselle Peva Underbed Storage Bag
See through material
Moth Resistant
Wardrobe Storage
Biodegradable Material
Ideal for boats & caravans
Product as described. decent value.
To all the good people at Caraselle. Thank-you so much for all your help in eradicating my moth infestation. All the products you advised me to get have worked perfectly, just as described. Your delivery time is incredible, next morning, Fantastic.!! Again my Thanks, I have managed to save all but one of my carpets and rugs and for this I and my insurers truly owe you and your wonderful team. Best Regards. Kirk, Barnsbury, Islington
New - Caraselle's Underbed Blanket Bag. Own brand, great price.
Made of heavy guage clear Peva with a zipper, the bag measures 60 x 50 x 20 cms (23.5.x 19 3/4 x 8") - just right
for storing items under your bed. It does not have rigid sides, so you can fill it up a bit more, or squash it under the bed.
This product can be found in the following locations:
Michael Georgiou - Sunday, 17th March 2013, 3months ago

excellent service

- Wednesday, 6th March 2013, 3months ago

I needed a squishy storage bag to store our 2 light double duvets in our motor caravan, in a locker a bit on the small side.They keep them clean , and the duvets are squashed in so that they take up less room than without the SINGLE storage bag. A great solution.

Ian Patterson - Wednesday, 5th September 2012, 9months ago

For storing blankets and pillows under the bed

- Tuesday, 17th July 2012, 11months ago

using the zipped bags in the drawers of the bed to keep damp off the bedding, quilts etc. Find them a good quility and strong for this use. will be sending for some smaller ones later on for our clothing.

Graeme Munro - Monday, 16th July 2012, 11months ago

Ideal for saving space

kelvin hogarth - Saturday, 14th July 2012, 11months ago

found the blanket bags fitted the 4 under bed draws perfectly which we are also useing to store clothing, sheets and quilts. looking through the catalogue the products seem very well priced and affordable. wil will defently let friends and family know about caraselle.
thank you....

june price - Monday, 28th May 2012, 12months ago

General storage

Linda Fox - Wednesday, 16th May 2012, over a year ago

Bags were bigger and stronger and better qulaity than I expected. Very pleased with them. Perfect for storing clothes at home but I bought them to store clothing for my caravan.

Kenneth Constant - Monday, 2nd April 2012, over a year ago

Product as described. decent value.

susan swindley - Tuesday, 6th March 2012, over a year ago

Helps to protect my clothes from moths

Ann Miller - Thursday, 23rd February 2012, over a year ago

Store all wool in these when not in use and no moth holes yet.

Kitty Kevan - Thursday, 26th January 2012, over a year ago

Product as expected and at a really competitive price which gives me confidence to shop again-thank you!

Marion Sheridan - Tuesday, 6th December 2011, over a year ago

Used to store clothes. Very good quality

anita colloms - Friday, 7th October 2011, over a year ago

I purchased these bags and also sweater bags as moth deterrent and they work very well indeed. I would like to suggest sweater bags also be made in half the size of the ones you carry.

C V Leader - Monday, 20th June 2011, over a year ago

Found these bages very useful in keeping moths away from my jumpers thanks