Measuring your ironing board
You must ensure that your ironing board is the correct size for this product.
To ensure the correct fit the board should be measured at its widest point including the depth and its longest point including the depth.
Length = A + C + C
Width = B + C + C
We've made all of our ironing board covers a slightly more generous size to cope with the multiple options of ironing boards available.
Are you sure that this cover will fit your shape & size of Ironing Board?
Homepage > Wedding Dress Covers, Storage Chest & Hangers > The Caraselle Travel Garment Carrier for up to 8 Suits / Dresses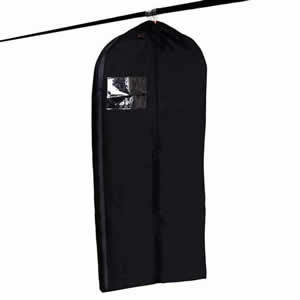 Questions? Call us anytime on 08000 199 309 INTERNATIONAL +44 (0) 207 267 5003
Coat Length Suit/Coat/Dress Carrier for 8 Hangers
One Large Travel Garment Carrier. Ideal as a salesman's sample carrier, or for travelling by car with clothes etc.t
Our strong Clothes Carrier can carry up to 8 Suits (or Coats/Dresses). It is made in 4oz coated polyester and is water resistant. The long heavy duty zip is reinforced with twin needle seams and at the top is a thick black cord to keep all the hangers together when carrying the clothes bag. There is an ID pocket on the front.
Length: 130 cms (50") Width: 60cms (24") Gusset: 25cms (10")
Clothes hangers are not included.
This product can be found in the following locations:
Nick Barrow - Wednesday, 3rd October 2012, 8months ago

Good quality product.

Kate Mallichan - Wednesday, 8th August 2012, 10months ago

Perfect fit for my wedding dress - the depth of the gusset was extremely useful!

Robert Gosling - Thursday, 24th May 2012, 13months ago

just what I need for travelling this summer!

Brian Hunter - Monday, 30th April 2012, over a year ago

For carrying suits, shirts etc in the car when travelling, this item is ideal

Carol Patterson - Tuesday, 24th April 2012, over a year ago

Storage of winter clothing. O can hang them in the attic which gives my Summer clothes more space.

Paul Jackman - Thursday, 8th March 2012, over a year ago

Carriers used to protect garments in a work van.nBetter quality than any other I have seen.nI would be prepared to pay a bit more for an even stronger product but this one is very adequate.nI would definitely reccomend it.

Gina Snowden - Wednesday, 8th February 2012, over a year ago

Too early to say whether the product will prove to be hardwearing and convenient to use but it looks ok so far but I haven't tried to use it for its intended purpose yet.

M Wilkes - Thursday, 22nd December 2011, over a year ago

Hold several large items with ease. nVery useful transporting both suits and dresses

Louise Wilson - Tuesday, 20th December 2011, over a year ago

As a product for storing theatrical costumes and for traveling with them there is no equal product

D C Hurt - Monday, 14th June 2010, over a year ago

Ideal for any type of travel.

Cherry Tompsett - Sunday, 9th May 2010, over a year ago

excellent value for money and received within two days

Jamie Perrie - Sunday, 20th December 2009, over a year ago

Fantastic product at a great price.