Measuring your ironing board
You must ensure that your ironing board is the correct size for this product.
To ensure the correct fit the board should be measured at its widest point including the depth and its longest point including the depth.
Length = A + C + C
Width = B + C + C
We've made all of our ironing board covers a slightly more generous size to cope with the multiple options of ironing boards available.
Are you sure that this cover will fit your shape & size of Ironing Board?
Homepage > Homecare > VELCRO® Christmas Hanging Card Kit (60335)
VELCRO® Christmas Hanging Card Kit (60335)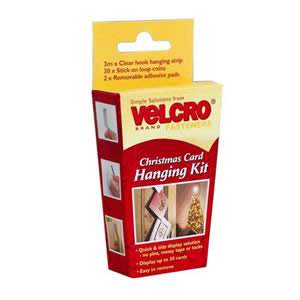 Questions? Call us anytime on 08000 199 309 INTERNATIONAL +44 (0) 207 267 5003
A quick & easy way to neatly display cards in & around the home
No need for pins, sticky tape or messy tacks
Suitable for use on door & window panels & frames
Use on metal, pvc, glass, ceramic tiles, mdf & laminated surfaces
Can be easily removed after use
Velcro Christmas Hanging Card Kit - quick & tidy display solution. Each pack contains 3 metre x Clear hook hanging strip. 30 x Stick on loop coins. 2 x removable adhesive pads.
VELCRO® is a registered trademark of Velcro Industries B.V.
This product can be found in the following locations: