Measuring your ironing board
You must ensure that your ironing board is the correct size for this product.
To ensure the correct fit the board should be measured at its widest point including the depth and its longest point including the depth.
Length = A + C + C
Width = B + C + C
We've made all of our ironing board covers a slightly more generous size to cope with the multiple options of ironing boards available.
Are you sure that this cover will fit your shape & size of Ironing Board?
Homepage > Vilene Extra Strong Wundaweb
Vilene Extra Strong Wundaweb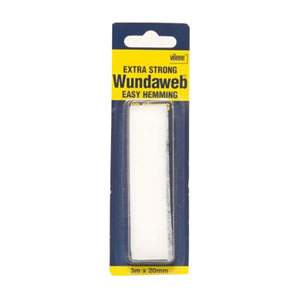 Questions? Call us anytime on 08000 199 309 INTERNATIONAL +44 (0) 207 267 5003
Buy Vilene Extra Strong Wundaweb
3 metre x 20mm wide strip
Easy hemming without sewing
Gives secure invisible hems in seconds
Long lasting & durable results
20mm in width and 3 metres long
Perfect for most types of fabrics and all sorts of garments

Vilene Extra Strong Wundaweb Reviews »
Average 4.8/5 from 10 reviews.
Vilene Extra Strong Wundaweb - Suitable for heavier fabrics & areas that require an extra strong bond.
Ideal for hems on jeans, workwear, combat & canvas fabrics, soft furnishings, craft applications & applying trims.
Wundaweb is a fine fusable fleece which bonds fabrics together quickly & easily, providing a natural firmly joined finish making it ideal for using as hemming tape.
It comes in a 3 metre x 20mm wide pack.
Vilene Extra Strong Wundaweb can be found in the following locations: