Measuring your ironing board
You must ensure that your ironing board is the correct size for this product.
To ensure the correct fit the board should be measured at its widest point including the depth and its longest point including the depth.
Length = A + C + C
Width = B + C + C
We've made all of our ironing board covers a slightly more generous size to cope with the multiple options of ironing boards available.
Are you sure that this cover will fit your shape & size of Ironing Board?
Homepage > Whizzkleen 2 Tone Silver/Grey Crumb Brush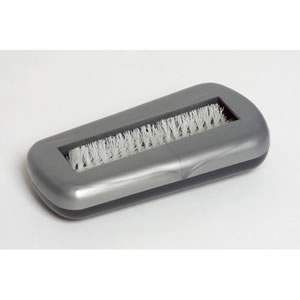 Questions? Call us anytime on 08000 199 309 INTERNATIONAL +44 (0) 207 267 5003
Sweep away crumbs the professional way
Ideal for use in the home, car, workplace, caravan, boat and in restaurants
Ideal for any jobs, small or large
No plugs, No leads, No batteries!
Hand held - very easy to use - fast & effective cleaning solution
Choice of colours - solid & 2 tone
2 Tone Silver/Grey mini-sweeper for tablecloths and furniture. Stylish and effective, this sweeper will give lasting service sweeping crumbs from tablecloths and all surfaces.
This product can be found in the following locations:
- Tuesday, 12th March 2013, 3months ago

Excellent produce and swift efficient service

Norman Lintott - Wednesday, 1st August 2012, 10months ago

very good item