Measuring your ironing board
You must ensure that your ironing board is the correct size for this product.
To ensure the correct fit the board should be measured at its widest point including the depth and its longest point including the depth.
Length = A + C + C
Width = B + C + C
We've made all of our ironing board covers a slightly more generous size to cope with the multiple options of ironing boards available.
Are you sure that this cover will fit your shape & size of Ironing Board?
Homepage > Three Way Clothes Brush
Three Way Clothes Brush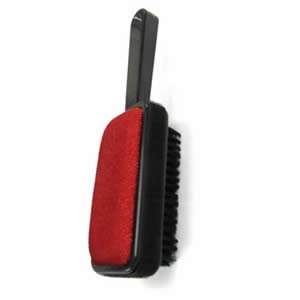 Lower_Price
Questions? Call us anytime on 08000 199 309 INTERNATIONAL +44 (0) 207 267 5003
Buy Three Way Clothes Brush
This smart brush removes lint, is a knitwear defuzza and has bristles too.
The general purpose Brush
For clothes
For upholstery
For pet hair
first class would recommend to friends

Three Way Clothes Brush Reviews »
Average 5.0/5 from 3 reviews.
Black Three Way Clothes Brush

Our Triple Action Brush is a Lint Fabric Brushr as it has a special cloth which you sweep across the fabric to lift the lint or fluff. Its a Knitwear Defuzza, so it takes the bobbles out of knitwear, and it also has the Bristles of a conventional clothes brush to brush away dandruff and dust.

Also available in Silver.
Three Way Clothes Brush can be found in the following locations:
Rating:
Customer Review:
Great very useful
Reviewed By:
Phil Green
|
Review Date:
03-05-2012
Rating:
Customer Review:
Product as described. Does the job...
Reviewed By:
ed whitehead
|
Review Date:
01-05-2012
Rating:
Customer Review:
first class would recommend to friends
Reviewed By:
leonard felberg
|
Review Date:
02-01-2012